Paint &
Wine
Business or
Franchise


.


"Our paint, Your wine, One fun time!"

Open Your Own "Paint and Wine" Oriented Art Studio!

The "paint and wine" industry is one of the fastest growing sectors in the art market today!
If you attended a "sip and paint" industry type class, or have heard about the concept, you're probably hyped about the possibilities of opening your own studio!

"The Paint & Wine Studio" isn't a franchise, we work as consultants to help you conceive,
design, execute, as well as maintain your own "paint and wine" oriented art studio.
It's a "pay as you go" system, you're not locked into any franchise obligations or regulations.

Select from any option below.


Gold Level Consulting - New Studio
Fee $6000 (3 Phases)
A "Three-Phase" system to guide you step by step through the entire process in 90-180 days, you set your own pace. Open your own "paint and wine" oriented art studio, from scratch, for an additional 1-4k investment, you decide on any extras. Current franchises are charging $20-25k, inventory, studio, etc. extra.


Silver Level Consulting - Mobile Studio or Existing Retail
Fee $4000 (2 Phases)
A "Two-Phase" system to guide you step by step through the entire process in 45 -120 days, you set your own pace. Open your own "paint and wine" oriented mobile art studio for events and parties, or diversify your existing business (i.e. art gallery, etc.) for an additional 1-3k investment, you decide on any extras.


Bronze Level Consulting - Existing Art Business "Tune Up"
$425
A "snapshot" of your current art-related business and advice to incorporate new ideas to maximize sales and profits. Based on an interview of demographic research, website analytics, services and products. You will receive a written review and a simple list of immediate steps to get your business tuned up and sales rocking!

Paint & Wine Studio's
National Training Center
Three-day Seminar
"Total Immersion"
Houston, Texas
$2250

Our 1750 sqf studio in Houston, Texas, serves as the national training center for studio owners, instructors, and enthusiasts who want to learn more about this industry. Participants learn all the practical aspects of the studio, from site operations and management, to painting and teaching techniques. Over the course of three days students will paint at least eight unique acrylic, 16x20 industry standard canvas paintings of their choice, assisted by the instructor. Participants also take part in public classes and assist on the floor, and receive an inventory list for later purchases.
This is an option not offered by any franchise.
This is not a substitute for Gold or Silver Level Consulting.



Next Date




Friday, June 24- Sunday, June 26, 2011


9am to 3pm daily , 6-10 pm nightly (except Sunday).

Free daily ride to and from our suggested hotel:


La Quinta Inn Houston Northwest
11130 N.W. Freeway, Houston, TX 77092
Phone: Phone: 1-713-680-8282
Click here to price this hotel
Lunch and drink is provided daily.

Seminar Discount Rates, Per Student


Gold Level Clients -75% ($675)
Silver Level Clients - 50% ($1125)
New Students $2250, above discounts applied if purchasing consulting phases afterwards.


Celebrating our 25th year in the arts, and 11 years as an established national art instruction school! We've trained thousands of
students and businesses how to "have fun with paint".


Call Director Brian Bullard at 713-409-3373 or




email info@paintandwine.com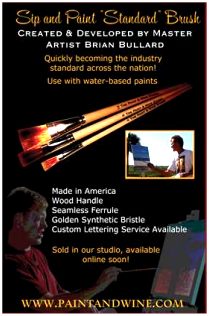 ---
OUR CREDENTIALS
---
*25 years in the art business
*11 as a national-level art school
The Decorative Arts Center
*Over $1 million in arts revenue
*In excess of 10,000 students
*Consulted over 1000 businesses
*References available
---
TESTIMONIALS

---
Chris & Brenda H.
Gold Level + Seminar
Pigments Art Studio
Milwaukee, Wisconsin
Started Jan 2011
Grand Opening Jun 2011
---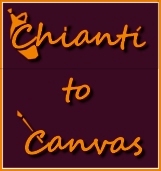 "Exactly what I wanted! Thank you for indulging me. Very happy and telling all of my friends about it!."
Michael P.
Gold Level + Seminar
Chianti to Canvas
San Antonio, Texas
Started May 2011
Grand Opening Aug., 2011
If this is your passion, we'll help you realize your dream.

Call Director Brian Bullard at 713-409-3373 or email
info@paintandwine.com