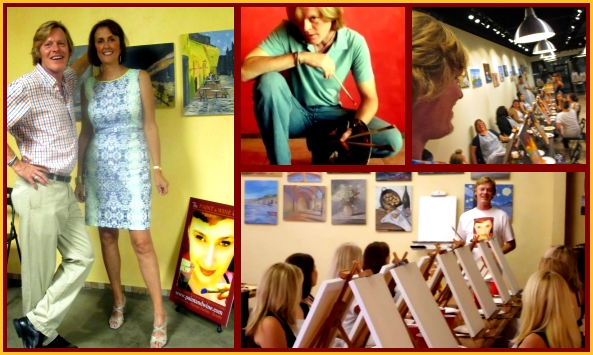 Nobody can top our level of experience in training and creating successful artists and art businesses!
*30 plus years in the art business
*"paint & sip" studio & consultants since 2010
*opened 38 paint and sip studios within 7 years
*18 years as a national-level art business training studio
*over one million dollars in art revenue
*in excess of 15,000 students
*consulted 1000+ art businesses
Q: What is the "proprietary software" I see mentioned from franchises?
A: We've seen this pitch and will be honest with you -- it's not rocket science. We link our Consulting Clients to systems that are affordable, easy to use, and just as efficient as claimed with "Proprietary Management" systems.
Q: Why should I establish my business with you vs a competing franchise or business?
A: COST-- franchises get a $20-25k plus franchise fee, then come all of the additional costs. It's well known that franchisees have approximately over $100k invested in their business by "Grand Opening" because they have to meet the franchisor's demands and then pay royalty fees for 7-10 years. We can put you into a very solid, self-owned business for a fraction of that amount.
KNOWLEDGE-- on average, our "competition" has only a few years of experience running an "art studio" and being involved in this "new" industry, vs Brian Bullard's 30 plus years in the arts, 23 years as an art business, and 18 of these years as a national-level studio, as well as training students, artists, instructors, and assisting in the development of over 1000 small business and over 38 "paint and wine" oriented art studios.
FREEDOM-- as a franchisee, you're bound by agreements and contracts, you won't have the financial or business freedom that "independents" enjoy. You will pay upfront fees, other expenses, and a portion of every dollar you make to that franchise for the length of agreement, currently 5-10 years. With us, you have the freedom to choose everything about your business-- from the way it's run to what you want to offer -- after all, you're paying for it, you own it! We will advise you on the best-proven methods but it's your call in the end!